April 4, 2017
Posted by:

admin

Category:

Security & Hacking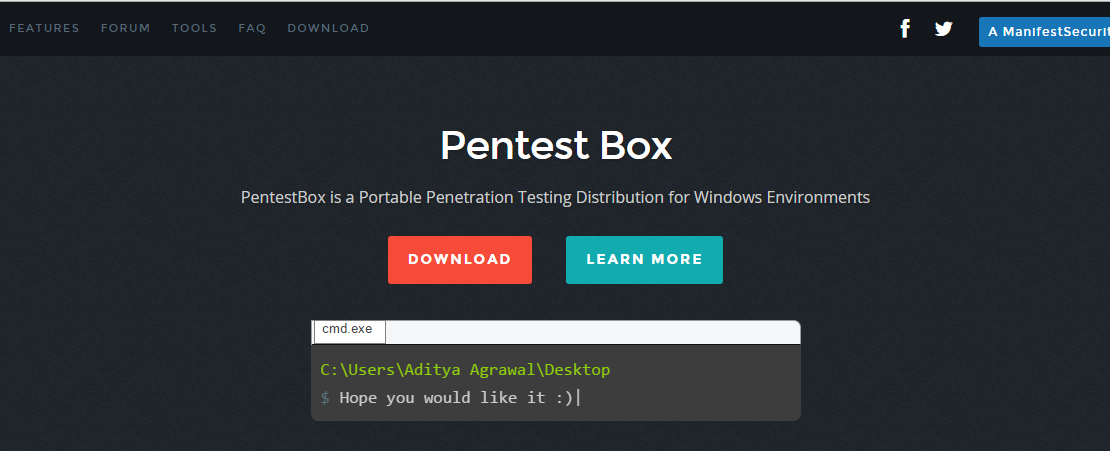 Sometimes, you find security tools, vulnerability scanning is great until you go to the home page to download the words " Windows is not supported " … But do not be sad, because you are not. Is the only one who has that problem.
And fortunately, it is also the reason why PentestBox born!
What is PentestBox?
PentestBox is a pre-configured Open Source Portable test environment for the Windows operating system .

PentestBox does not run on a virtual machine environment or dual boot like any other Linux pentest distribution . It mainly provides the whole tool as a security package and allows you to run them natively on Windows . This eliminates the need for a virtual machine or dual boot environment on Windows.
Features of PentestBox
Efficiency
PentestBox runs directly on the server instead of based on the virtual machine, bringing about a clear improvement in performance.
Independent
All components that depend on the tools are inside the PentestBox, so you can even run Pentesters on the newly installed windows without any hassle.
Portable
PentestBox is completely mobile, so now you can carry your own penetration testing environment on a USB. It will take care of all the dependencies and configuration required to run the tool.
Linux utilities
PentestBox contains almost all Linux utilities such as bash, cat, chmod, curl, git, gzip, ls, mv, ps, ssh, sh, uname and more.
Compatible with the Controller
Windows has had a great deal of support for graphics cards and wireless systems, so now you will not have to worry about driver compatibility issues. For example, now you can use your GPU power to crack the hash code with the RainbowCrack project (it is not compatible with an environment like Linux).
Modularity
In the process of creating the PentestBox, we have just put in the best tools, but in the process we may have overlooked a few tools that you might want to use. In this case you can easily install these tools with the toolsmanager that exists in the PentestBox, which can install / update / remove tools that are not yet available in the PentestBox.
Use Less Memory
PentestBox runs on real machines without adding any virtual machines. So it only needs 20 MB to boot than at least 2GB of RAM needed to run distributions using virtual machines.
Use Less Disk
It's also very lightweight on the drive, which requires less than a third of the pentest compilation on Linux.
Browser Ready
PentestBox contains a version of
Mozilla Firefox
with almost all security add-ons.
Updated Features
It contains an update feature through which you can keep your tools up-to-date.
Can share in network
Consider an environment where you want to use the PentestBox on multiple computers in the office, lab, and so on. Instead of installing PentestBox on each computer, you can simply install it on a computer and Share that directory as a drive to other computers on the same network.
Support 32 Bit System
Most users do not care about 32-bit support because they usually use 64-bit systems. But this was introduced to turn a low-end system into a test environment.
Introduction video
Here is a video introduction to the PentestBox 2.0 version made by the author himself.
Download the PentestBox
PentestBox has two versions: one without Metasploit and one with Metasploit.
Note: You need to turn off your antivirus and firewall to install and operate the "PentestBox with Metasploit" version.
Click here to download directly from the homepage!